Softcon EW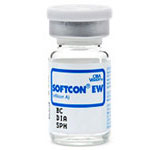 Softcon EW Contact Lenses from CIBA Vision
Softcon EW is an extended wear contact lens designed to wear for up to one week or may be prescribed for daily or flexible use. The lenses provide good comfort and vision acuity.
The design of Softcon EW allows you to use them to best suit your personal needs. They offer the convenience of an extended wear lens and the durability of a daily wear.
The lens has been discounted.
Softcon EW Details
Manufacturer

Type

1-7 day extended wear conventional lens

Characteristics

Offers convenience and durability Provides good comfort

Material

45% polymer (Vifilcon A), 55% water

Packaging

1 contact lens in buffered saline solution