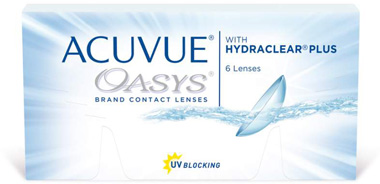 Monthly replacement lenses can be worn up to 30 days before they need to be thrown away thanks to the lens' permeability or ability to breathe. According to U.K. vision care specialists, 41% of all new soft lenses fitted and 51% of those prescribed as re-fits during the year 2008 were monthlies. The soft material that monthly lenses previously were made of, HEMA, or hydroxyethylmethacrylate, has now been replaced by a water-rich substance called hydrogel. Silicon hydrogel and various types of filcon are the most common materials from which monthly lenses are made.
Consistent and thorough cleaning of these lenses is important due to the duration of their usage. Tear fluid contains protein and minerals that easily build up on the lens surface in the form of deposits if one neglects to clean the lens daily, thus increasing the risk of eye irritation and/or infection. Cleaning, disinfection and storage of monthly lenses are usually carried out with an all-purpose contact lens solution or a combination of a cleaning fluid and storage solution.
Researchers are working now to develop anti-bacterial and anti-fungal lenses using silver or pharmaceutical agents in the lens material. New types of fluoroquinolones have recently been shown to be effective in areas where bacteria resistant ocular infections have been difficult to treat.1 Introduction of these medical lenses to the CL market will reduce the need for pharmaceutical eye drops now commonly prescribed for lens-related infections.
1 Am J Ophthalmology 2008 Jun: 145(6): 951-958