SofLens 38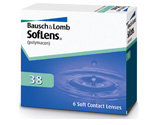 SofLens 38 Contact Lenses from Bausch and Lomb
SofLens 38 are high-quality 1-2 week disposable soft contacts. The lenses are ultra-thin but still easy to handle and insert thanks to the visibility tint and inversion indicator. The inversion indicator shows if the lens is inside out.
SofLens 38 contacts are comfortable to wear thanks to the time-tested lens material, and they also have good deposit resistance. The lenses provide crisp, clear vision and address many different vision correcting prescriptions.
Soflens 38 contacts are not designed to change eye color. This lens is formerly known under the name Optima FW.
The "Soflens" material, called polymacon or HEMA, was used in the first soft contact lenses. It is a hydrogel that was invented by the Czech chemist Otto Wichterle. Besides being a soft lens material, it was also permeable to oxygen. It was introduced to the US by Bausch & Lomb in 1971.
SofLens 38 Details
Manufacturer

Type

1-2 week disposable soft contacts

Characteristics

Ultra-thin design Great comfort Clear vision

Material

62% polymer (polymacon)

Packaging

6/pack