Acuvue Oasys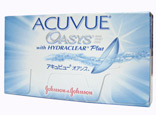 Acuvue Oasys Contact Lenses from Johnson and Johnson
Acuvue Oasys is a top contact lens from Johnson & Johnson. These lenses are very comfortable for the wearer, thanks to the Hydraclear Plus system that keeps the moist in the eyes. Also, they are silicone hydrogel lenses that let through 98% of the available oxygen, making it possible to wear the lenses even when sleeping. Acuvue Oasys contacts are either used day and night for one week or for two weeks if they're removed in the evenings for cleaning and then inserted again the next morning.
The lenses also have UV protection of the highest class; it is one of the first lenses to receive the American Optometric Association's Seal of Acceptance for Ultraviolet Absorbing Contact Lenses. They block 96% of the UV-A radiation and 100% of the UV-B radiation.
Acuvue Oasys has received FDA approval for therapeutic use as a bandage for some eye conditions. The lens has been shown to produce less staining than other contact lenses.
Acuvue Oasys - Best prices
Acuvue Oasys Details
Manufacturer

Type

1-2 week disposable soft contact lenses

Characteristics

- No lens care needed
- Healthy way to wear contacts
- Highest class of UV protection
- High oxygen permeability
- Can be worn when sleeping

Material

62% polymer (Senofilcon A), 38% water

Packaging

6 visibly tinted UV blocking lenses in buffered saline solution