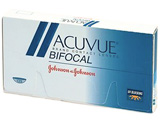 Bifocal lenses, a type of multifocal lens, exist both as disposable soft lenses and as RGP (rigid permeable lenses) and soft gas-permeable lenses. Their design can be described in terms of the number of different powers or prescriptions contained in each lens and also with respect to how these powers are distributed throughout the lens. In general, bifocal lenses are divided into two categories:
Alternative bifocal lenses contain two prescriptions in the same lens, allowing the eye to shift between two powers depending on whether the eye needs to focus on a distant or near object. Since this type of lens is slightly smaller than other lenses, it remains centered on the cornea just above the lower lid. When you gaze at nearby objects, the eyes turn downwards and inwards. With alternative bifocals, this eye position automatically enables sharp near vision through the lens' lower portion.
Simultaneous vision bifocals enable the wearer to gaze at near and distant objects at the same time by means of concentric rings of varying prescriptions. These annular configurations combined with an aspheric design on the back surface of the lens provide the wearer with smooth transitions between distant and near focus. New users of SV multifocals usually require a short period of visual adaptation due to a sort of re-programming that takes place in the brain's visual neural pathways.
Simultaneous construction is also used for many multifocal contact lenses.