Biofinity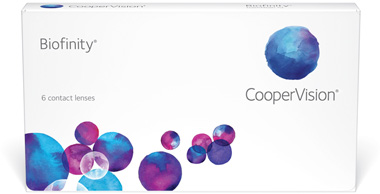 Biofinity Contact Lenses from CooperVision
Biofinity is a contact lens from CooperVision, made from a silicon hydrogel material that is naturally water-loving.
The material does not only love water it is also highly breathable which means that it allows great volumes of oxygen to flow freely through the lens.
With this technology you get lenses that keep your eyes moist throughout the entire day. The material is also resistant to protein deposits. Research has also shown that Biofinity induces less staining than other contact lenses. (http://www.clspectrum.com/article.aspx?article=102040) Biofinity are very comfortable contact lenses, and has been approved by the FDA for overnight wear for up to six nights.
The lens has an aspheric design that minimizes so-called spherical aberrations. Spherical aberration is a refractive error that can cause problems especially during lower light conditions, for example when driving in the dark. Reducing spherical aberrations can give better image resolution and increased depth of focus.
Frequently asked questions about Biofinity
How long can I wear my Biofinity lenses?

You can carry them up to 30 days (29 nights) in a row before you change. The lenses contain the material silicone hydrogel which makes the lenses comfortable to wear for an extended period of time.

Can I sleep with my Biofinity lenses?

Yes, Biofinity is approved to sleep for up to 29 nights in a row.

Is Biofinity available in 3-pack?

Yes, Biofinity is available in both 3 and 6 packs depending on which dealer you buy from.
Biofinity Details
Manufacturer

Type

Monthly disposable soft contact lenses

Characteristics

Lens care needed

Material

52% comfilcon A, 48% water

Packaging

6 contact lenses in buffered 0.83% saline solution