SofLens 59 (B&L 2 Week)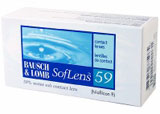 SofLens 59 (B&L 2 Week) Contact Lenses from Bausch and Lomb
SofLens 59 (B&L 2 Week) is a 1-2 week disposable soft contact lens. The ultra-thin design combined with a time-tested lens material provides excellent comfort, visual acuity and deposit resistance. Wear the lenses on a daily basis and replace them every two weeks.
The lenses are visibility tinted for ease of handling and insertion and also designed with an inversion indicator that shows whether the lens is inside out. The tint does not change eye color.
This contact lens used to be named Bausch & Lomb 2 week but Bausch & Lomb has changed the packaging and renamed the lens. The lens is still the same.
SofLens 59 (B&L 2 Week) - Best prices
SofLens 59 (B&L 2 Week) Details
Manufacturer

Type

1-2 week disposable soft contact lenses

Characteristics

Ultra-thin design Inversion indicator Handling tinted

Material

41% polymer (Hilafilcon B), 59% water

Packaging

6 contact lenses in buffered saline solution