Preference Toric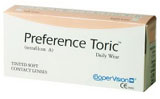 Preference Toric Contact Lenses from CooperVision
Preference Toric is a quarterly disposable contact lens that corrects astigmatism. The design provides a highly deposit resistant lens material and optimum eye health and the lenses can be worn comfortably for long hours. The material produces a more durable lens and Preference Toric is ideal for active lifestyles.
The lenses are tinted for ease of handling, which facilitates locating the lenses in the solution. The tint will not change the color of your eye.
Frequently replaced contact lenses leads to better eye health and increased convenience. For those with a higher level of astigmatism there is an XR variant with extended range of power.
Preference Toric - Best prices
Preference Toric Details
Manufacturer

Type

2-3 month disposable soft contact lenses

Characteristics

Corrects astigmatism Tinted for ease of handling

Material

57.5% polymer (Tetrafilcon A), 42.5% water

Packaging

4 hydrophilic lenses in buffered saline solution