Optima FW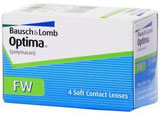 Optima FW Contact Lenses from Bausch and Lomb
Optima FW are 1-2 week disposable soft contact lenses with high-performance ultra thin design combined with a material that provides comfort, clear vision and a great deposit resistance.
The lenses are very easy to handle thanks to the inversion indicator to help ensure proper application and the handling tint to facilitate locating in solution. The lenses do not change eye color.
This lens has changed name and is now known under the name SofLens 38. The lens is unchanged - only the name and packaging has changed.
Optima FW Details
Manufacturer

Type

1-2 week disposable soft contact lenses

Characteristics

Handling tinted Inversion indicated

Material

62% polymer (Polymacon), 38% water

Packaging

6 lenses in buffered saline solution