Nike MAXSIGHT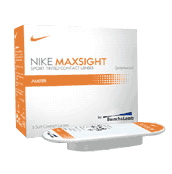 Nike MAXSIGHT Contact Lenses from Bausch and Lomb
Nike MAXSIGHT is a contact lens specially made for athletes. It is a revolutionary tinted soft contact lens for daily wear that need to be replaced monthly. The lenses provide excellent visual performance benefits that help eliminate distortion and improves field of vision.
The contacts cover your entire pupil and are available in two glare-reducing tints that also increase contrasts. This is achieved by selective filtering of light, where most of the blue light is filtered.
The grey-green lens is ideal for sports played in bright sunlight (golf, running, rugby) and amber is superior for fast-moving ball sports in variable light conditions (baseball, soccer, tennis). Both come in corrective and non-corrective versions.
The lenses are the result of a partnership between Nike and Bausch & Lomb and the perfect choice for athletes and recreational wearers.
Nike Maxsight has been discontinued
Nike MAXSIGHT - Best prices
Nike MAXSIGHT Details
Manufacturer

Type

Monthly replacement soft contact lens

Characteristics

UV-blockage For active wearers

Material

62% polymer (Polymacon), 38% water

Packaging

6 lenses in buffered saline solution