Frequency 55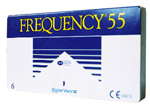 Frequency 55 Contact Lenses from CooperVision
The Frequency 55 Sphere lens is a member of the well-known Frequency line of high-quality contacts. It is the right choice for you who want both really good performance and ease of handling in a monthly disposable soft contact lens.
In the Frequency 55 Sphere contacts, the patented manufacturing technology called UltraSync® co-operates with a well-proven lens design, creating a contact with outstanding comfort as well as top-notch performance and easy handling.
Frequency 55 - Best prices
Frequency 55 Details
Manufacturer

Type

Monthly disposable soft contact lens

Material

45% polymer (methafilcon A), 55% water

Packaging

6 lenses in a buffered 0.9% saline solution.