Extreme H2O 59% Thin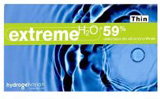 Extreme H2O 59% Thin Contact Lenses from Benz Research & Development
Extreme H2O 59% are monthly disposable soft contact lenses, perfect for users who suffer from extremely dry eyes. These are designed to hold high levels of moisture and at the same time offer great lasting comfort.
The lens is available in two options, Thin and Xtra. Thin is recommended for patients who need the extra oxygen transmission provided by the thin design.
The unique material allows the lenses to achieve a much higher level of water content, compared to other lenses, keeping your eyes moist even at the end of the day. The material also resists unhealthy protein deposits. Clean the lenses regularly and replace them after up to a month.
Extreme H2O 59% Thin - Best prices
Extreme H2O 59% Thin Details
Manufacturer

Benz Research & Development Sarasota, FL

Type

1-2 week disposable soft contact lenses

Characteristics

Excellent comfort High water content

Material

41% polymer (Hioxifilcon A), 59% water

Packaging

6 lenses in buffered saline solution