Acuvue 2 Colours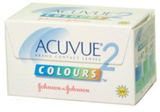 Acuvue 2 Colours Contact Lenses from Johnson and Johnson
Acuvue 2 Colours from Johnson & Johnson is a soft contact lens with special color enhancing layers. The lenses give you ten natural-looking colors to choose from. You also have the possibility to change your eyes color even though you don't have any problems with vision.
Acuvue 2 Colours are extremely thin and they are mostly made of water which makes them very comfortable to wear. When choosing colored lenses you should make sure that you do not compromise with the quality of your lenses.
The lenses have a UV protection class II. They block 82% of the UV-A radiation and 97% of the UV-B radiation.
Acuvue 2 Colours - Best prices
Acuvue 2 Colours Details
Manufacturer

Type

1-2 week disposable soft contact lenses

Characteristics

No lens care needed Healthy way to wear contacts

Material

42% polymer (etafilcon A), 58% water

Packaging

6 visibly tinted UV blocking lenses in buffered saline solution