Acuvue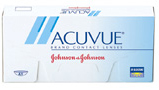 Acuvue Contact Lenses from Johnson and Johnson
Acuvue was the first disposable contact lens in the world. It allows one whole week of extended wear! You can put them in, wear them without interruption for seven days, and then throw them away. You don't even need to take them out when you go to bed. They are so thin and oxygen-permeable that the eye will not get irritated.
The Acuvue extended wear contact is primarily made of water and gets along fine with the natural liquid of the eye. As an alternative, instead of wearing them without interruption for one week, you may take them out at night and wear them as daily-wear lenses during a two-week period. UV blocking is of course no stranger to Acuvue, they are slightly tinted for facilitated handling, and the inside-out marking makes it easier to put the lenses in correctly.
The lens was originally developed by the company Frontier Contact Lens Company in Florida. In the 70's, they developed the soft lens material Etafilcon A, which had the advantage of being more oxygen permeable than other materials. They were eventually acquired by Johnson and Johnson, who changed the name of the company to Vistakon. The Acuvue lens was released in 1987, and revolutionized the soft lens market by being the first inexpensive disposable lens.
Acuvue Details
Manufacturer

Type

1-2 week disposable soft contacts

Material

42% polymer (etafilcon A), 58% water

Packaging

6 lenses in buffered saline solution