1 Day Acuvue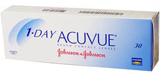 1 Day Acuvue Contact Lenses from Johnson and Johnson
The 1 Day Acuvue contacts may well be the handiest way to enjoy wearing lenses. Not least, it is definitely a very healthy way too. No need to mess with lens care solutions or handle the lenses in any way since you simply throw them away after a day's comfortable wear. Then you start every day with a new, clean 1 Day Acuvue contact. Ultimately healthy.
This makes 1-Day Acuvue perfect for occasional use as well as full-time wear. It is the only daily disposable contact with UV blocking properties. The protection is class 2, blocking 82% of the UV-A radiation and 97% of the UV-B radiation. This makes the lenses a good complement to sunglasses, which often do not give enough protection.
1 Day Acuvue contact lenses was released by Vistakon in 1995 and was the first daily disposable lens. An update with improved wetting technology, 1 Day Acuvue Moist, was released in 2007.
1 Day Acuvue - Best prices
1 Day Acuvue Details
Manufacturer

Type

Daily disposable soft contact lens

Characteristics

- No lens care needed
- Healthy way to wear contacts
- Great for occasional use
- Blocks UV light

Material

42% polymer (etafilcon A), 58% water

Packaging

30 lenses in buffered saline solution