Novelty contacts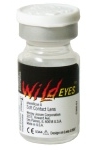 Ever dreamed of having pool balls for eyes? Or charming those around you with a smiley on your iris? Novelty contact lenses or special effects lenses as they are also called, allow you to change your eye color, add flair, cause a stir or just get a laugh.
Novelty lenses are typically used for dress-up parties and movie productions. Nevertheless, to prevent eye irritation and infections, these lenses must also be appropriately fitted by your eye care practitioner and well cared for during their lifetime. And just as with ordinary contact lenses, novelty contacts require a prescription, according to US regulations.
There are a lot of different brands to choose from, the two most prominent being Crazy Lenses from CooperVision and WildEyes from CIBA Vision.